OSHO Meditations in LA
"Times of crisis are both dangerous and immensely important – dangerous for those who have no courage to explore new dimensions of life…. Now the society is disintegrating, the mind cannot remain; its roots are in the society…. The daring individual can use this opportunity to go beyond mind, because now the society cannot prevent him, cannot hinder him. Now he is free." Osho
Time to get real, time to meditate! Join us for the world's most innovative meditation techniques created by the Indian Mystic Osho. OshoLA is dedicated to spreading OSHO Active Meditations in Los Angeles and to build community.
Join us for daily online
OSHO ACTIVE MEDITATIONS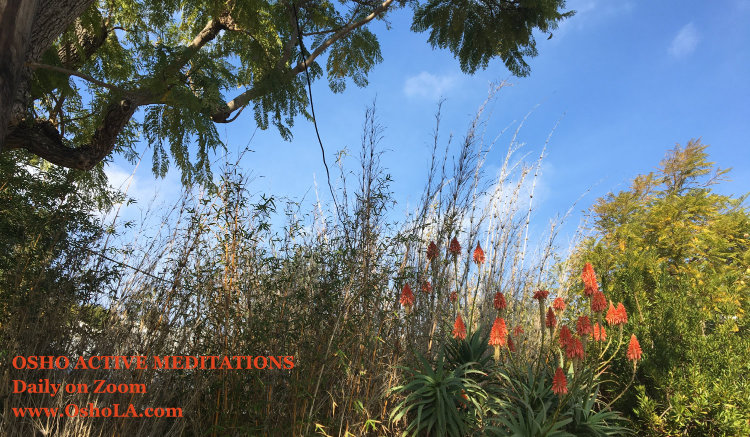 Daily at 5:30 pm. Come every day or whenever you can!
Please register in advance for these meditations HERE
After your are registered you will receive your personal participation link.
To read in-depth about each of these meditations go www.osho.com
Suggested Donations of $10, $25, $35 for 1 week, please send to
http://paypal.me/pashyo
or Venmo to 310 940 4270
Instructions will be given at the beginning of each meditation.
This week's meditation schedule:
Sun, Jan. 10, 5:30 pm: A TASTE OF OSHO REMEMBERING THE FORGOTTEN LANGUAGE OF TALKING TO YOUR BODYMIND
Guided meditation to connect and communicate with your body on a deep level. This will give you a taste of this one-week process. In a light trance, combining deep relaxation with alertness, you will explore and befriend your bodymind's creative and self-healing energies.
Mon, Jan. 11, 5:30 pm: OSHO CHAKRA SOUNDS
This meditation uses vocal sounds to open and harmonize the chakras or energy centers while bringing awareness to them. It can bring you into a deep, peaceful, inner silence.

Tue, Jan. 12, 5:30 pm: OSHO KUNDALINI MEDITATION
Being fully immersed in the shaking and dancing of the first two stages helps to "melt" the rocklike being.Then that energy can flow, dance and be transformed into bliss and joy. The last two stages enable all this energy to flow vertically, to move upward into silence.
Wed, Jan. 13, 5:30 pm: OSHO GOURISHANKAR MEDITATION
Osho says that if the breathing is done correctly in the first stage of this meditation, the carbon dioxide formed in the bloodstream will make you feel as high as Gourishankar, Mt. Everest. This "high" is carried into the subsequent stages of soft gazing, soft and spontaneous movement, and silent stillness.
Thu, Jan. 14, 5:30 pm: OSHO NATARAJ MEDITATION
Nataraj is the energy of dance. This is dance as a total meditation, where all inner division disappears and a subtle, relaxed awareness remains.
Fri, Jan. 15, 5:30 pm: OSHO GIBBERISH / SILENCE
Gibberish: Say nonsense sounds – any sounds or words, so long as they make no sense. Just speak any language that you don't know! Throw everything out. Let your body be expressive. Gibberish is followed by silence and watching.
Sat, Jan. 16, 5:30 pm: OSHO EVENING MEETING
The meeting starts with 20 minutes of high-energy music for dancing with totality interrupted by sudden stops, followed by silent sitting and listening to intermittent pieces of Indian music, up until three "explosive" drumbeats. The sitting then continues through the Osho Talk on video until the Gibberish and Let-Go.

Sun, Jan. 17, 5:30 pm: LAUGHING DRUMS CELEBRATION
Guided dance meditation and freeze dance to drum music.
What participants say:
"It's amazing to do meditations in the 21st century through the technology of Zoom! Wonderful to connect with friends on different coasts and share the same loving energy. Revolutionary!" Deva Raksan
"Yes, I can say that it changes my whole mental state and gives me space and clarity and a feeling of connectedness to life." Prem Vedanta
"There is a variety of meditations and such a feeling of happiness, joy, sharing, and being in a silent space." Anurag Supana
"Meditating on Zoom means coming together with the oneness and ocean of consciousness, the love and bliss of Osho." Deva Rowshan
Connect with OshoLA by email and get weekly updates:

To read about OSHO Meditations and more OSHO Online Classes go here
Donations can be sent to https://www.paypal.me/pashyo or Venmo to 310 940 4270
Copyright © OSHO International Foundation www.osho.com/copyrights Trademarks by Osho International Foundation www.osho.com/trademarks