OSHO Meditations in LA
"Meditation is enough. Eveything else follows on its own." - Osho
Time to get real, time to meditate! Join us for the world's most innovative meditation techniques created by the Indian Mystic Osho.
OshoLA is dedicated to spreading OSHO Active Meditations in Los Angeles and to build community.
Join us for a week of
OSHO ACTIVE MEDITATIONS
Saturday, May 23 - 30, 2020
Come every day or whenever you can.
Join Zoom Meeting
https://us02web.zoom.us/j/82402332813?pwd=dDExd2N2dVptb2twSm0vWENwOGFpUT09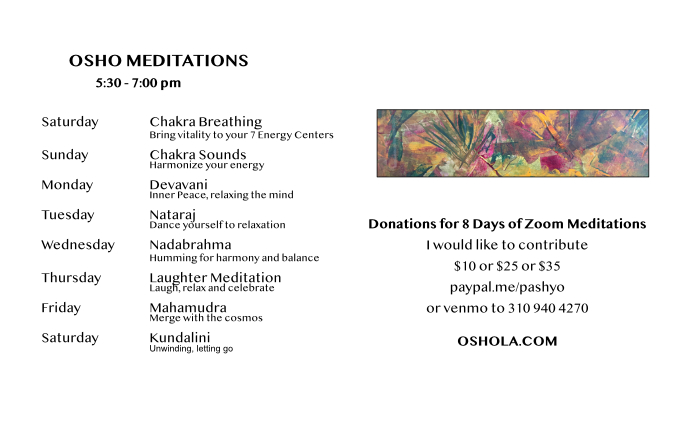 To read about each of the meditations go here
Instructions will be given at the beginning of each meditation.
Connect with OshoLA by email:

To read about OSHO Meditations go here
Donations can be sent to https://www.paypal.me/pashyo or Venmo to 310 940 4270
Copyright © OSHO International Foundation www.osho.com/copyrights Trademarks by Osho International Foundation www.osho.com/trademarks