OSHO Meditations in LA
"Meditation is enough. Eveything else follows on its own." - Osho
Time to get real, time to meditate! Join us for the world's most innovative meditation techniques created by the Indian Mystic Osho.
OshoLA is dedicated to spreading OSHO Active Meditations in Los Angeles and to build community.
Join us for online
OSHO ACTIVE MEDITATIONS
Daily at 5:30 pm. Come every day or whenever you can!
Email us to join our Zoom Meditation Meetings.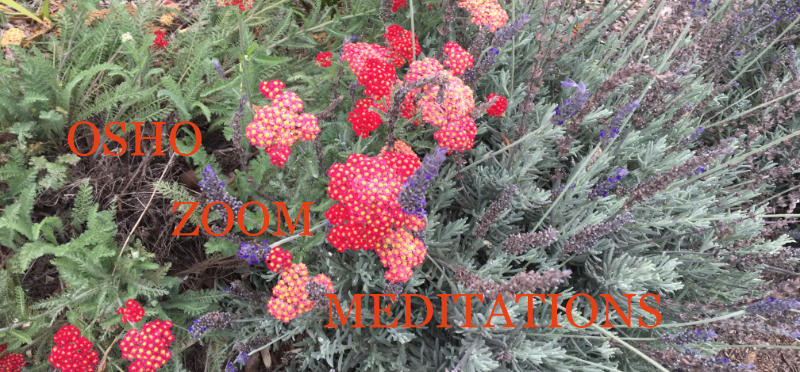 To read about each of the meditations go here
Suggested Donations of $10, $25, $35 for 1 week, please send to
http://paypal.me/pashyo
or Venmo to 310 940 4270
Instructions will be given at the beginning of each meditation.
Sat, Aug. 8, 5:30 pm: OSHO GOURISHANKAR MEDITATION
The breathing technique in the first stage will make you feel as high as Gourishankar, Mt. Everest. This "high" is carried into the subsequent stages of soft gazing, soft and spontaneous movement, and silent stillness.
Sundays, 4:00 pm: ASTROLOGY FOR MEDITATORS
Read your own astrology chart. Step by step you learn about astrology signs, houses, planets and aspects and how they relate to you. "The universe is a living body, an organic unit. In it nothing is isolated, all is joined together. Whatever is far away is joined to that which is near. Nothings is separate...Life is a whole. If you can perceive this wholeness, only then will you understand astrology." OSHO You need to sign up separately for this group. Send us an email.
Sun, Aug. 9, 5:30 pm: LAUGHING DRUMS CELEBRATION
Guided dance meditation and freeze dance to drum music.
Mon, Aug. 10, 5:30 pm: OSHO CHAKRA SOUNDS
This meditation uses vocal sounds to open and harmonize the chakras or energy centers while bringing awareness to them. It can bring you into a deep, peaceful, inner silence.

Tue, Aug. 11, 5:30 pm: OSHO NATARAJ MEDITATION
Nataraj is the energy of dance. This is dance as a total meditation, where all inner division disappears and a subtle, relaxed awareness remains.
Wed, Aug. 12, 5:30 pm: OSHO BARDO
Guided Meditation for living and dying. Strengthening your witness.
Thu, Aug. 13, 5:30 pm: OSHO KUNDALINI MEDITATION
Being fully immersed in the shaking and dancing of the first two stages helps to "melt" the rocklike being.Then that energy can flow, dance and be transformed into bliss and joy. The last two stages enable all this energy to flow vertically, to move upward into silence.
Fri, Aug. 14, 5:30 pm: OSHO HEART MEDITATION
based on a small fragment from Atisha, the founder of Tibetan Buddhism, you allow all the suffering – of yourself and of all the beings in the world – to ride on your incoming breath and reach your heart. The heart can do miracles, it immediately transforms the energy. You drink in misery, and it is transformed into blissfulness. Then, on your outgoing breath you pour that blissfulness into the whole existence.
Connect with OshoLA by email and get weekly updates:

To read about OSHO Meditations go here
Donations can be sent to https://www.paypal.me/pashyo or Venmo to 310 940 4270
Copyright © OSHO International Foundation www.osho.com/copyrights Trademarks by Osho International Foundation www.osho.com/trademarks