OSHO Meditations in LA
"I'm not giving you another dream, remember. You hanker for it, you would like me to give you another dream, but I am not going to give you another dream. That's why to be with me is difficult and arduous - because I am insisting that you wake up." Osho
Experience the world's most innovative meditation techniques created by the Indian Mystic Osho. OshoLA is dedicated to spreading OSHO Active Meditations in Los Angeles and to build community.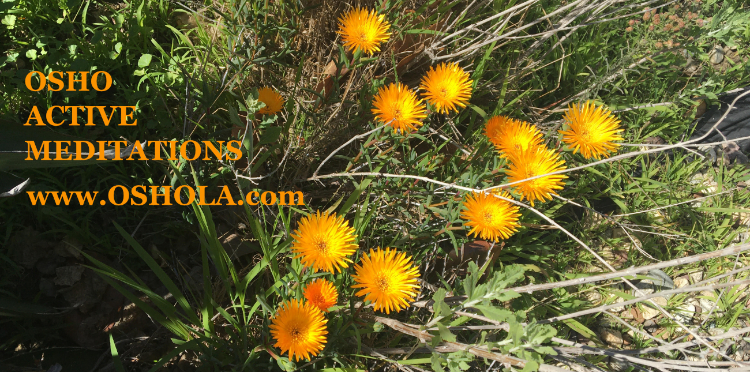 Monday through Friday at 5:45 pm. Login at 5:30 pm. Come whenever you can!
Please register in advance for these meditations HERE
After your are registered you will receive your personal participation link.
To read in-depth about OSHO Active Meditations go to www.osho.com
Suggested Donations of $10, $25, $35 for 1 week, please send to
http://paypal.me/pashyo
or Venmo to 310 940 4270
Instructions will be given at the beginning of each meditation.
What participants say about our virtual OSHO Meditations :
"It's amazing to do meditations in the 21st century through the technology of Zoom! Wonderful to connect with friends on different coasts and share the same loving energy. Revolutionary!" Deva Raksan
"Yes, I can say that it changes my whole mental state and gives me space and clarity and a feeling of connectedness to life." Prem Vedanta
"There is a variety of meditations and such a feeling of happiness, joy, sharing, and being in a silent space." Anurag Supana
"Meditating on Zoom means coming together with the oneness and ocean of consciousness, the love and bliss of Osho." Deva Rowshan
Connect with OshoLA by email:

To read about OSHO Meditations and OSHO Online Classes go here
Donations can be sent to https://www.paypal.me/pashyo or Venmo to 310 940 4270
Copyright © OSHO International Foundation www.osho.com/copyrights Trademarks by Osho International Foundation www.osho.com/trademarks