OSHO Meditations in LA
"If you have a little joy, you will attract much joy; if you have a little silence, then even from the faraway stars you will be attracting silence, then even in a crowd, in the marketplace you will be attracting silence."
Osho, Beyond Psychology, Talk #14
Time to get real, time to meditate! Join us for the world's most innovative meditation techniques created by the Indian Mystic Osho. OshoLA is dedicated to spreading OSHO Active Meditations in Los Angeles and to build community.
Join us for daily online
OSHO ACTIVE MEDITATIONS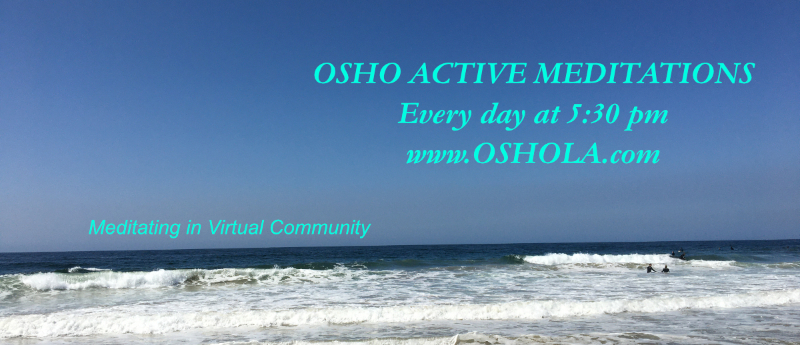 Daily at 5:30 pm. Come every day or whenever you can!
Please register in advance for these meditations HERE
After your are registered you will receive your personal participation link.
To read in-depth about each of these meditations go www.osho.com
Suggested Donations of $10, $25, $35 for 1 week, please send to
http://paypal.me/pashyo
or Venmo to 310 940 4270
Instructions will be given at the beginning of each meditation.
This week's meditation schedule:
Sun, Oct 18, 5:30 pm: STOP DANCE - OSHO AUDIO DISCOURSE
We start with 20 min high energy dancing followed by a 45 min Osho Discourse. In this discourse Osho dives deep into the reasons for our problems as human beings.

Mon, Oct. 19, 5:30 pm: OSHO BARDO
Guided Meditation for living and dying. Strengthen your witness!
Tue, Oct. 20, 5:30 pm: OSHO KUNDALINI MEDITATION
Being fully immersed in the shaking and dancing of the first two stages helps to "melt" the rocklike being.Then that energy can flow, dance and be transformed into bliss and joy. The last two stages enable all this energy to flow vertically, to move upward into silence.
Wed, Oct. 21, 5:30 pm: OSHO CHAKRA BREATHING
This active meditation uses deep, rapid breathing and body movement to open and bring awareness, vitality and silence to each of the seven chakras and thus into your life.
Thu, Oct. 22, 5:30 pm: OSHO CHAKRA SOUNDS
This meditation uses vocal sounds to open and harmonize the chakras or energy centers while bringing awareness to them. It can bring you into a deep, peaceful, inner silence.

Fri, Oct. 23, 5:30 pm: OSHO NO DIMENSIONS
This active centering meditation is based on Sufi techniques, further developed and expanded by Osho. Using the breath and a series of coordinated body movements followed by whirling, your energy becomes centered in the hara, the "life energy" center below the navel.
Sat, Oct 24, 5:30 pm: OSHO EVENING MEETING
The meeting starts with 20 minutes of high-energy music for dancing with totality interrupted by sudden stops, followed by silent sitting and listening to intermittent pieces of Indian music, up until three "explosive" drumbeats. The sitting then continues through the Osho Talk on video until the Gibberish and Let-Go.

Sun, Oct. 25, 5:30 pm: OSHO NATARAJ MEDITATION
Nataraj is the energy of dance. This is dance as a total meditation, where all inner division disappears and a subtle, relaxed awareness remains.
What participants say:
"It's amazing to do meditations in the 21st century through the technology of Zoom! Wonderful to connect with friends on different coasts and share the same loving energy. Revolutionary!" Deva Raksan
"Yes, I can say that it changes my whole mental state and gives me space and clarity and a feeling of connectedness to life." Prem Vedanta
"There is a variety of meditations and such a feeling of happiness, joy, sharing, and being in a silent space." Anurag Supana
"Meditating on Zoom means coming together with the oneness and ocean of consciousness, the love and bliss of Osho." Deva Rowshan
OSHO INTERNATIONAL Online Courses

OSHO REMINDING YOURSELF OF THE FORGOTTEN LANGUAGE OF TALKING TO YOUR BODYMIND - 7-Day Online Course with Dhyan
Starts October 25 - 31, 2020, 11:30 am
Join the free taster 23 October 2020, 10:30 am PDT
For more information and to register go to:
https://www.osho.com/.../courses/osho-talking-your-bodymind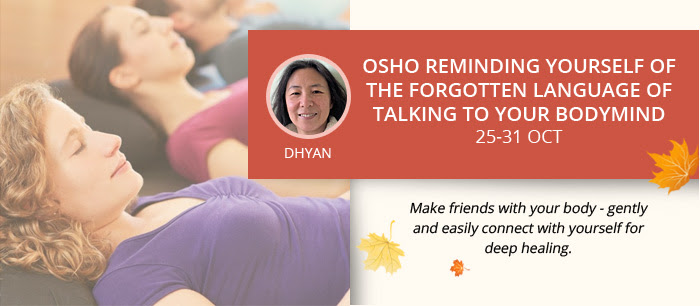 Connect with OshoLA by email and get weekly updates:

To read about OSHO Meditations and more OSHO Online Classes go here
Donations can be sent to https://www.paypal.me/pashyo or Venmo to 310 940 4270
Copyright © OSHO International Foundation www.osho.com/copyrights Trademarks by Osho International Foundation www.osho.com/trademarks